MiniFilex Ethernet Switch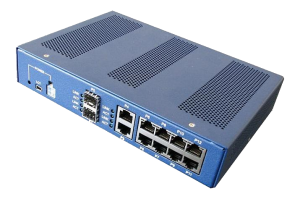 Industrial Layer 2 Ethernet Switch and Fiber Optic Modem.
Optical and Electrical Ethernet.
Layer 2+ Managed Ethernet Switch
2 x Gigabit Ethernet for SFP module
2 x Gigabit Ethernet, electrical
8 x Fast Ethernet, electrical
Spanning Tree and Ethernet Ring Protection
Jumbo Frames support, QoS (8 queues)
VLAN, Trunk Support, Multicast, MVR
Trunk and Link Aggregation
Access Control and DoS protection
Fan-less Din-Rail housing with Table Top option
24/48VDC on board power option
110/230VAC Power option with external adapter
CLI, Telnet, SSH and SNMP management
Extended temperature range
High quality and high performance
The FlexDSL MiniFlex Ethernet Switch appears as a part of the MiniFlex Family. It was designed as a stand-alone solution for Ethernet networks construction with quality in mind and could be used as feature-rich network device like Access Switch with VLAN, Multicast support and DoS protection; as Edge Aggregation Switch on a Metro Ethernet Network with Q-in-Q and QoS support. For small corporate and utility networks it could be used as Core Switch with RSTP and Ethernet Ring Protection support. All Ethernet functions of MiniFlex Ethernet Switch are compatible with our MiniFlex Access Platform.
The MiniFlex Switch is based on a high performance System on Chip (SoC) IC in 65-nm CMOS technology. It has 24.8 Gbps non-blocking wire-speed performance and has 1.0 Mb internal memory for packet buffering. It supports L2 and L3 protocol stack by hardware and has 16K MAC address table, 8K IP address table and 2K multicast table. IPv6 protocol support is included as well. The SoC IC has hardware support for Class of Service (CoS) with 8 queues in ingress and egress directions on every port. Build-in anti-DoS protection will help system administrators to keep enterprise network save and secure.
The MiniFlex Switch could be used in various power scenarios. Due to its wide range from -18 to -72V DC, it can be used in Telco rooms as well as in Industrial areas. AC power could be realized with an external power adapter (has to be ordered separately). The power connector has special design to prevent accident unplugging.
Like every product from FlexDSL Telecommunications AG, the MiniFlex Ethernet Switch is manufactured according to highest quality standards providing additional value due to selection of special components. The combination of comprehensive functions, providing maximum flexibility, together with the high quality of the FlexDSL MiniFlex Ethernet Switch, makes it the perfect choice for all your Ethernet needs.
MiniFlex Ethernet Switch
MiniFlex family brochure
MiniFlex Copper-Fiber application note