Orion3 Media Converter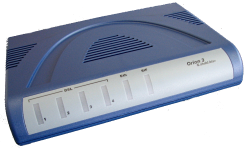 Fiber Optic Modem with 8-wire SHDSL.bis and Ethernet Interfaces.
Fiber Optic Extension and Modem for MiniFlex.
100Mbps Ethernet with SFP Module (100Base-FX)
Included SHDSL.bis (TC-PAM4/8/16/32/64/128) interfaces
Fiber to Copper cable converter, Media converter
Layer 2 managed Ethernet Switch with VLAN and QoS support (10/100BaseT)
Spanning Tree (RSTP) for ring applications
Built-in cross-connect (Multipoint)
Console, Telnet, and SNMP management
Tabletop, dinrail and minirack form factors
Extended temperature range
High quality and high performance
Available units with SD Card support (Configuration & Software on SD Card)
The FlexDSL Orion3 & MiniFlex SHDSL.bis Extended product family offers a broad range of products, which are based on the latest SHDSL.bis standards (ITU-T G.991.2 & ETS TS 101 524), while also being fully interoperable with all our existing SHDSL equipment (Orion1 & Orion2). The FlexDSL Orion3 & MiniFlex support optical interfaces and has therefore some versions with an SFP cage.
An integrated 2 or 4 port Ethernet layer 2 managed switch with VLAN, QoS and RSTP support (10/100BaseT) ensures connectivity to IP services. The products with fiber optic interfaces can be used as fiber optic modem or as media converter (copper to fiber) in a very smart way.
Like all FlexDSL Orion products, the Orion3 & MiniFlex SHDSL.bis Extended modems family is based on industrial components and is manufactured according to highest quality standards providing additional value due to the extended temperature range and higher reliability. The combination of comprehensive functions providing maximum flexibility together with the higher quality of the FlexDSL Orion3 & MiniFlex SHDSL.bis Extended product family make it the perfect choice for all your DSL needs.
FlexDSL Orion3 SHDSL & Fiber modems (look for Orion3, V84S model)
Orion3 & MiniFlex Copper-Fiber application note