TRENDnet Fiber Converter
TRENDnet TFC-1000S40D3 / TFC-1000S40D5
(Version C.1.1R)
TFC-1600 & TFC-1600MM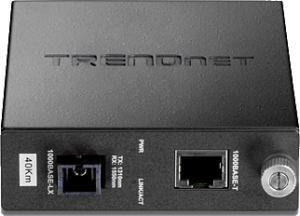 The TFC-1000S40D3 Bi-Directional Intelligent Fiber Converter works with the TFC-1600 chassis system or as a standalone unit. This converter is a Dual Wavelength Single Mode SC-Type fiber converter that supports port-based SNMP reporting and spans distances up to 40 km (24.85 miles). This module must be used with the TFC-1000S40D5 module. Ports include 1 x 1000Base-T (RJ-45) port and 1 x 1000Base-LX (SC Simplex Type) port.
Compliant with IEEE 802.3ab 1000Base-T and IEEE 802.3z 1000Base-LX standards
1 x 1000Base-T RJ-45 port
1 x 1000Base-LX single-mode bi-directional simplex-SC type fiber port
Provides Dip switch to set: Fiber (Forced / Auto-Negotiation), LLR (Enable / Disable)
Support LLCF (Link Loss Carry Forward, Link Pass Through)
Support LLR (Link Loss Return) for FX port
Monitor and configure Ethernet or Fiber's duplex mode, LLR, port on / off and receive link down information via management module TFC-1600MM and chassis TFC-1600
Status LED indicators for Power and Link / Activity
Wall mountable
Optional 19" system chassis with redundant power supply (TFC-1600), holds up to 16 TFC series Media Converters
3-year limited warranty
Supports port level SNMP management
TFC-1600 Chassis System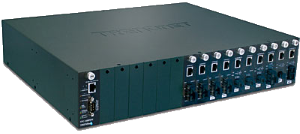 TRENDnet's TFC-1600 16-slot EIA-19" Rack-Mount Chassis System provides housing for up to 16 TFC series media converters. Designed for continuous operation, the chassis is equipped with dual cooling fans and redundant power supplies (optional). Its Plug-and-Play and Hot-Swap features allow installing/removing the converter unit without powering off the chassis. TFC-1600 rack-mount chassis eliminates the external power adapters for TFC series media converters and organizes multiple converters in a single unit, which makes it the perfect solution for managing multiple TFC series converters.
Provides housing for up to 16 TFC series media converters
Front panel LEDs indication
Standard 19" rack-mount size, 2U height
Hot-Swappable; easy & quick replacement of converter and power supply
Single cooling fan (internal) mounted at the rear panel
Optional redundant power supply to ensure non-stop reliable operation
Optional Management Module
Load Sharing mechanism to minimize downtime (available only with redundant power supplies)
Power isolation designed with converter bays: ensures each bay is electrically isolated from others
3-year limited warranty
Optional Management Module (TFC-1600MM)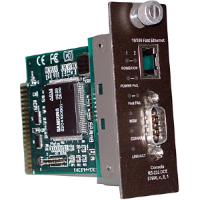 1 x 10/100Mbps Fast Ethernet RJ45 port and 1 x RS-232 Console ports for management
Web Browser Based Management via Ethernet port or Command Line Interface Management via RS-232 port
SNMP Agent
Provides media Link/Connection Speed/Duplex status for each module
Provides Cooling Fans and Power Supplies status
TRENDnet TFC-1000S40D3
TRENDnet TFC-1000S40D5
TRENDnet TFC-1600
TRENDnet TFC-1600MM